Smoke Detectors and Fire Safety – The Facts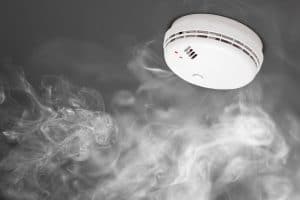 Smoke detectors are one of the most vital aspects of fire safety. Some of the most tragic house fires occur due to the lack of smoke detectors, which could have alerted residents to get out of the house earlier and escape injury or death. Or, in the worst-case scenario, a smoke detector malfunctions or fails and does not alert residents to any smoldering or smoke at all.
How do smoke detectors work?
There are two common types of smoke detectors – ionization versus photoelectric. They each detect smoke, but in two different ways. According to the National Fire Protection Association (NFPA):
Ionization smoke alarms are more tuned in to flaming fires.
Photoelectric smoke alarms are more attuned to fires that start with a long period of smoldering.
The ideal smoke detector should have both types of technologies. You cannot predict what type of fire will happen in your home or workplace.
The NFPA also reports that the risk of dying in a house fire is cut by 50 percent if the home has a working smoke alarm, and over 38 percent of house fire deaths occur in homes without a working smoke detector.
Where should I put smoke alarms in my home?
It is not enough just to have smoke detectors in your home. You must also know how to install and maintain them properly. The NFPA has a thorough list of recommendations and guidance for installing smoke alarms; following are just a few:
Do not paint or decorate smoke alarms.
If possible, interconnect all smoke alarms, so if one goes off, they all go off.
Install in family rooms and living rooms.
Install on every level of the home, including the basement, outside sleeping areas, and in bedrooms.
Keep the instruction manual handy for reference.
Mount your smoke alarms high on walls or on ceilings, as smoke rises.
Purchase smoke alarms from a recognized brand that has undergone formal testing.
Smoke detectors should be installed at least 10 feet away from cooking appliances.
Test your smoke alarm once a month and change the batteries regularly.
Some fire departments will install smoke detectors in your home at no cost. You can contact the Huntsville Fire Department or the Decatur Fire Department to find out about fire safety in your local community.
Did you suffer burn injury in a fire due to non-working smoke detectors or lack of smoke alarms? The Huntsville injury attorneys at Martin & Helms can protect your right to compensation and determine exactly who is responsible for your losses.
To schedule your free consultation in our Huntsville or Decatur office call 256-539-1990 or we invite you to reach out to us through our contact form. Cases are handled on a contingency fee basis so there is no cost to you unless we win your case. We serve clients in North Alabama including Huntsville, Decatur, Athens, and Madison.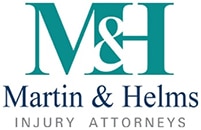 Choosing the right personal injury attorney is an important step in building a better future. You deserve a lawyer who works one-on-one with you, and who can develop a plan for you to move forward. When you choose Martin & Helms, you get Clay Martin and Tara Helms: experienced, compassionate counselors who put your best interests first. We invite you to read more about us.