CDC Reports Car Accident Fatality Rates in the US Higher Than Nearly All Other High-Income Countries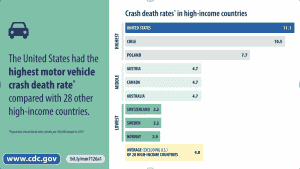 The Centers for Disease Control and Prevention (CDC) recently released a new report analyzing motor vehicle deaths in the United States and other high-income countries between 2015 and 2019. They found that, in 2019, the US had higher fatality rates than most other countries. Further, in 2020 and 2021, this trend continued. The CDC refers to this as a "significant public health concern."
The study, authored by Merissa A. Yellman, MPH and Erin K. Sauber-Schatz, PhD, notes:
In 2019, the population-based motor vehicle crash death rate in the United States (11.1 per 100,000 population) was the highest among 29 high-income countries. The population-based motor vehicle crash death rate decreased from 2015 to 2019 in 22 countries, but not in the United States.
The number of crash deaths from 2015 to 2019 decreased in 21 countries and increased in seven countries (Table 1). Percent changes ranged from a 27.5% decrease in South Korea to an 11.8% increase in Denmark; the average change was −8.1%. The United States experienced a 2.5% increase (from 35,484 deaths in 2015 to 36,355 deaths in 2019).
According to the study, the United States had the:
Highest population-based death rate
Sixth-highest distance-based death rate
Fourth-highest vehicle-based death rate
Further, "from 2015 to 2019, the U.S. population-based death rate increased nominally by 0.1%, whereas the average percent change of the other high-income countries was −10.4%." The CDC believes that, with the right approach, the US can save over 20,500 lives and over $280 million in medical expenses by reducing our fatal traffic accident rate.
The CDC and the Safe System approach
In their report, the CDC discusses the Safe System approach, a practice designed in conjunction with the Road to Zero Coalition. These approaches view traffic safety as an infrastructure issue rather than a human issue – in Safe System's words, "seeking safety through a more aggressive use of vehicle or roadway design and operational changes rather than relying primarily on behavioral changes – and by fully integrating the needs of all users (pedestrians, bicyclists, older, younger, disabled, etc.) of the transportation system."
The major directives of the Safe System include:
Anticipating human error. Safe System infrastructure design should both anticipate and accommodate driver error. One example of this would be keeping vulnerable road users like cyclists and pedestrians separated from cars and trucks to reduce the chances of deadly collisions. They also mention things like rumble strips and lane-assist technologies; each simple and complicated means of capturing a user's attention.
Reducing or eliminating potential for catastrophic injury. In areas where vehicles and pedestrians must share the road (like crosswalks), Safe System recommends significantly lowering speed limits or designing roads so vehicles are unable to speed or take pedestrians by surprise. In the event of a collision, lower speed can translate to lesser injuries.
The authors of the CDC report ended their report with a warning:
Compared with other high-income countries, the United States continues to lag behind in road safety. Other high-income countries have demonstrated that substantial reductions in crash deaths can be achieved. Although various U.S. cities and communities have committed to a goal of zero crash deaths and injury reductions, widespread multisectoral commitment and collaborative action toward achieving zero deaths are needed for the United States to make significant improvements.
Motor vehicle crash deaths and injuries are a public health problem, but one with proven solutions. Increased and proactive implementation of proven road safety strategies, especially those addressing leading risk factors, could have an immediate effect. The United States could further reduce motor vehicle crash deaths and injuries by broadly embracing and applying the Safe System approach.
Here at home, Drive Safe Alabama has a goal toward zero traffic deaths over the next 25 years. Their current safety campaigns include:
Speeding
Bicycle safety
The "move over" campaign
Seatbelt safety
If you're hurt in a Huntsville car accident
If you are involved in a car accident that wasn't your fault, whether you're a driver, passenger, pedestrian, or cyclist, it is always a good idea to consult with an experienced attorney. Serious accidents result in serious injuries – and that requires serious representation. At Martin & Helms, P.C., our car accident lawyers not only understand how insurance companies work, we understand when to negotiate and when to take them to court. Talk to us today for experienced and compassionate legal help. Call 256-539-1990 or complete our contact form to schedule a free consultation with a member of our team. We have offices in Huntsville and Decatur, and serve clients in Madison, Athens, and North Alabama.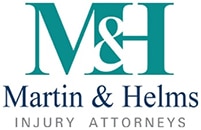 Choosing the right personal injury attorney is an important step in building a better future. You deserve a lawyer who works one-on-one with you, and who can develop a plan for you to move forward. When you choose Martin & Helms, you get Clay Martin and Tara Helms: experienced, compassionate counselors who put your best interests first. We invite you to read more about us.