Martin & Helms Is a Proud Participant in the 2020 Alabama Legal Food Frenzy!
For the last 5 years, the Food Bank of North Alabama has run a friendly competition called the Alabama Legal Food Frenzy. It's open to law firms of all sizes as well as Alabama legal organizations, and Martin & Helms is excited to join in!
The competition runs from May 4th to May 15th, and it works like this:
Firms or organizations register to join the competition by May 3rd.
Each firm collects and donates funds either online, or in cash or check form at the Food Bank or North Alabama in Hunstville.
Each dollar equals 4lbs of food
Awards are based on pounds collected pers employee*
At the end, all of the pounds are calculated, and "winners" are selected. There are 5 categories: large firms, medium firms, small firms, sole practitioners, and legal organizations. Two winners are declared for each group: one award for the most pounds collected, and one award for the most pounds collected per employee. The firm with the greatest amount of food collected per employee will be awarded the Attorney General's Cup.
*Note: this is a virtual food drive, which means that all donations are monetary, to ensure that the food collected is fresh. The Food Bank of North Alabama will use the donations to purchase food.
Why Martin & Helms is competing as a small firm
The coronavirus has left a lot of people out of work, and worried about where their next meal may come from. Food banks and food pantries, which so often rely on volunteers, have also been hit hard: not only have there been shortages in supplies and delays in deliveries, but many of the men and women who help these organizations are unable to do so now.
It is more important than ever that we help where we can, whenever we can. We are proud to support our local food bank in this year's 2020 Alabama Legal Food Frenzy, because we know that it is our food banks that will be the real winners here.
For more information about resources available during the coronavirus pandemic, please click here.
Martin & Helms is offering free phone and video consultations at this time. If you need help, please call 256-539-1990 or fill out our contact form to schedule a free consultation. We represent clients across North Alabama including Huntsville, Decatur, Athens, and Madison.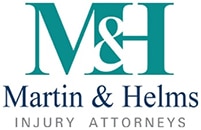 Choosing the right personal injury attorney is an important step in building a better future. You deserve a lawyer who works one-on-one with you, and who can develop a plan for you to move forward. When you choose Martin & Helms, you get Clay Martin and Tara Helms: experienced, compassionate counselors who put your best interests first. We invite you to read more about us.