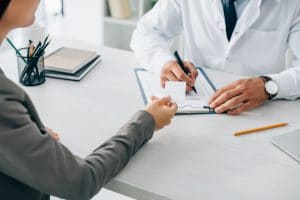 In May, Alabama sent an important bill to the Governor regarding medical liens. As of August 1, 2019, hospitals will be required to accept and bill your health insurance, instead of attaching a lien to an award to secure a higher payout.
If you feel a bit confused as to why that is not already the case, you're not alone. After all these years of helping car accident victims, we have discovered that many people don't realize that our hospitals have been playing a little fast and loose when it comes to billing. Today, we want to take a deeper look at hospital liens, and how this new bill will help injury victims.
What is a medical lien?
If you are in a car wreck and are brought to a hospital for treatment, the hospital has the right to bill for its services. Normally, this billing should go through your health insurance. However, if you do not have insurance, or if you do not have enough insurance, the hospital will attach a lien to any award or settlement you receive, to ensure that its costs are covered. This is why, when you win a personal injury lawsuit, your award goes into a trust first instead of into your bank account. The hospital has to be paid.
All of this is perfectly legal, and protected by Alabama's laws. The bit of trickery, however, applies when it comes to the costs attached to the lien.
How insurance billing works
When a hospital and an insurance company agree to work together, the hospital also agrees to a different pay scale for procedures. The theory is that by taking ABC Company's insurance, the hospital will have more visitors. Since it is getting more visitors, the hospital bills the insurance company for less money than it would bill an individual; think of it as the insurance company getting "group rate." Therefore, the hospital may bill Jane Doe $5000 for an MRI – but would only bill ABC Company $500 for an MRI. In other words, there are often vast differences between what hospitals charge insurance companies and what hospitals charge individuals like you. You are regularly charged more.
The prices are even further reduced if the patient uses Medicare or Medicaid, which are run by the federal and state governments, respectively.
How hospitals are inflating rates
Because of the way medical billing works, you probably assume that, if a lien is placed against your award, it would be for the remainder of the costs, and that those costs would be the same cut-rate that is offered to insurance companies.
As it turns out, both of those things are wrong.
Instead, what hospitals like Crestwood, Huntsville, and other local hospitals are doing is not billing the health insurance companies at all. Instead, they are attaching liens to personal injury awards. Furthermore, they are not billing for the discounted rate that they would give Medicare or ABC Company. Instead, they are attaching liens that charge the full price – even when patients had insurance plans that could have covered at least some portion of the bill.
This was all perfectly legal, until HB 11 passed. Starting August 1, 2019, "a hospital that provides medical treatment to an injured person [is required] to seek compensation solely from that person's health insurance provider, with the exception of approved copayments and deductibles, unless certain circumstances apply." The bill will not eliminate hospital liens entirely, but it only allows hospitals to file them if:
The patient entered the hospital within 1 week of being injured
The patient has no health insurance
The insurance provider denied coverage
The insurance provider did not pay the bill within 180 days of the bill's submission
If the lien is asserted due to nonpayment, the law stipulates that the lien must be withdrawn "when the private health insurer pays either of the following:
The amount stipulated by the hospital's contract with the injured person's health insurance provider.
The amount agreed to by the health insurance provider and the hospital in the event the hospital and the injured person's health insurance provider have no contract."
In short, hospitals can no longer submit liens instead of billing insurance companies – and any hospital lien must bill for the same rate the insurance company receives.
This new bill is good for Alabama and it's good for the injured. We cannot tell you how many times we have heard stories about injury victims who thought their bills were paid, only to be billed full price later, despite having health insurance. While we have always fought to have excessive liens diminished or eliminated, we are thrilled that the fight for justice will be a little bit easier for our clients from now on.
If you were hurt in a car crash, or because of a defective product, or because of the negligence of another person in any scenario, Martin & Helms wants to help. Our Huntsville personal injury attorneys understand the nuances of the laws, and we know how to fight for what is right. To learn more about our services, or to schedule a free initial consultation, please call 256-539-1990 or complete our contact form. From our offices in Huntsville and Decatur, we proudly serve the entire Tennessee Valley, including Madison and Athens.