What Trauma Do Children Experience from Car Accidents?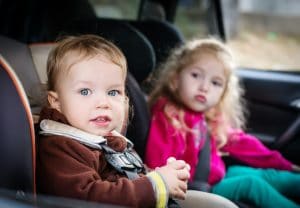 As parents, we do everything we can to keep our children safe no matter what. We give them a helmet and elbow pads for when they ride their bicycles, and water rings for when they go swimming. The same should apply for when they get into the car. We should make sure they are buckled in correctly, or that their booster seat is the right size. When we do not take the proper precautions, the consequences can be dire.
Not only can the injuries they sustain in a car crash be life-threatening, the long term effects – both physical and emotional – of the crash can last years. While some injuries will heal over time, others may be severe enough to last the rest of their lives. The emotional trauma from the accident may also cause long-term harm.
How many children are hurt in car accidents each year?
According to the National Highway Traffic Safety Administration, in 2019, 22,215 passenger vehicle occupants were killed in auto accidents. About three percent (731) were children. Of those 731 children, at least 266 (40%) were unrestrained. The NHTSA also reports that 183,000 children were injured in car accidents in that same year.
What injuries can children sustain from a car accident in Huntsville?
Auto accidents can cause serious and life-changing injuries for anyone involved in them, but especially for children. As they have growing and changing bodies, serious injuries can lead to long-lasting physical and mental developmental problems.
Such injuries include:
Head and neck injuries. These sorts of injuries can lead to hematoma (bleeding in the brain), skull fractures, concussions, and other serious conditions. Injuries to the neck might include herniated discs, whiplash (when the head is whipped back and forth), pinched nerves, and damage to the spinal cord, among other severe injuries.
Back injuries. Seatbelts, while they can save lives, can sometimes fail or be secured incorrectly by the passenger, or can allow the head and neck to whip around while the rest of the body remains in place. When a passenger does not use their seatbelt, they can be thrown from the car completely. These situations can cause injuries to the back, including spinal fractures, herniated discs, whiplash, and other soft tissue injuries.
Spinal cord injuries. The sudden force applied to the car, and to the body, in a car accident can lead to spinal cord injuries. A spinal cord injury (SCI) is described as "'complete' "when there is a loss of sensory function and movement below the spot where the injury occurred, and 'incomplete' when there is still some sensory function and movement below the area of impact." These sorts of injuries can lead to many long visits to the hospital and physical therapist, which can cause more emotional trauma for the child who has been in an accident.
Traumatic brain injury (TBI). When someone is involved in a car accident, the force of the sudden impact can have the head whipping forward or side to side, causing it to collide with parts of the car or objects that can leave lasting and serious complications, such as brain damage that affects cognitive and behavioral functions. This is especially a serious condition for children in car accidents as their brains have not fully developed, and so the damage done to their brains can affect them for the rest of their lives.
Bone fractures. Bone fractures often occur when the passengers of a vehicle are unrestrained or restrained improperly, such as when the child is not put in the correct booster seat for their age and size. Clavicle and rib fractures, hip, pelvis and leg fractures, broken arms, wrists, ankles and feet, and crush injuries can also occur in car crashes. For children whose bones may still be growing, injuries such as these can result in stunted growth.
Growth plate injuries. "Growth plates are thin cartilage discs at the end of long bones in children and adolescents." Bones grow longer as the cartilage cells in those discs multiply. These growth plates disappear when the child reaches maturity and their bones finish growing. However, accidents and trauma to the growth plates can stunt or hamper the bones' ability to grow if the plates are injured.
These are just a few of the physical injuries a child can expect from a car accident, but they are not  the only injuries they can receive. The mental and emotional trauma from the experience are other forms of injury that your child can suffer from an auto accident. Post-traumatic stress disorder (PTSD) from the accident and from the resulting medical procedures needed to treat injuries is common among children involved in auto accidents. They can be brought back to the moment of the accident at any moment, suffer from nightmares, and can develop certain flight or fight responses to everyday activities or situations.
What can I do to protect my child from a Huntsville car accident?
The first thing you can do with your child in a car is make sure they are restrained in the appropriate manner. For young children, make sure they use the proper booster seat for their age and size. Also, it is important to make sure that the booster seat is facing the correct direction, and that it is secured in one of the backseats and not the front. Children under the age of nine should be in a booster seat.
Once they are large enough for a seatbelt to fit them comfortably and safely is when children can be in the car without a booster seat. In this case, it is important that the lap belt clasps over their thighs and not their stomach, and the shoulder strap crosses over their shoulder and chest, not resting against their neck or head.
If your child has been hurt in a car accident due to someone else's actions or negligence, then you need a car accident attorney. Your child's health is of utmost importance to us, and we believe the responsible party should be held accountable. We at Martin & Helms understand that your family has suffered enough, and we will fight to make sure that your hospital bills and damages will not be another source of stress and pain. To schedule a consultation to discuss your case, call us at 256-539-1990 or fill out our contact form. We also have offices in Decatur, and proudly serve clients in Athens, Madison, and throughout North Alabama.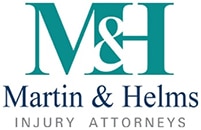 Choosing the right personal injury attorney is an important step in building a better future. You deserve a lawyer who works one-on-one with you, and who can develop a plan for you to move forward. When you choose Martin & Helms, you get Clay Martin and Tara Helms: experienced, compassionate counselors who put your best interests first. We invite you to read more about us.