FDA Orders Juul Products Off the Market; Appeals Court Pauses Ban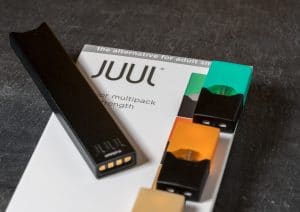 On June 23, the US Food & Drug Administration (FDA) ordered e-cigarette company Juul to stop advertising, distributing, and remove their products from the market, including devices and pods. The FDA states they made this move after determining Juul's pre-market applications included "insufficient and conflicting" data regarding their device's safety. However, an appeals court granted the company a temporary hold on the ban while it reviews the case in more detail.
So, is Juul still on the market?
Although the FDA did issue what's called "marketing denial orders," which is effectively a ban, as of the end of June 2002, Juul products remain available.
Here's a timeline of what happened – and it all happened very quickly.
June 23: The FDA announces a ban on Juul e-cigarettes. In their announcement, the FDA wrote, "Today's action is further progress on the FDA's commitment to ensuring that all e-cigarette and electronic nicotine delivery system products currently being marketed to consumers meet our public health standards." Juul had petitioned for clearance to sell its tobacco and menthol-flavored products, and this was the result of the FDA turning down their application. The company was permitted to sell their products while waiting for the outcome.
The FDA noted they would enforce this ban against commercial distribution and sales, but not against individual consumer possession or use. Per the Washington Post:
The FDA decisions are part of a campaign to review e-cigarettes to ensure they are "appropriate for the protection of public health." That means a product must be more likely to help adults to quit smoking than to entice young people to start vaping — and potentially get addicted to nicotine. Although the youth-vaping aspect has gotten the most attention, the agency reviews also are designed to ensure the products are safe for adults.
June 24: Juul files an emergency motion to halt the ban. In their petition to the US Court of Appeals in Washington DC, Juul requested an administrative stay on the FDA ban until the company can provide the Court with a full briefing. Juul plans to file the full motion on June 27, 2022. Juul states in their motion that the ban can cause them "significant irreparable harm." They further note:
FDA cannot credibly argue that there is a critical and urgent public interest in removing JLI's products from the market right now, rather than after this Court reviews FDA's action…FDA has taken almost two years—and almost four times the 180-day review period Congress specified, see 21 U.S.C. § 387j(c)(1)(A)—to review JLI's application and issue its marketing-denial order. Throughout that time, FDA exercised its enforcement discretion to allow JLI's products to remain on the market.
June 24: US Court of Appeals rules in Juul's favor. After considering Juul's emergency motion, the District of Columbia Circuit Court granted the temporary stay, stating:
…respondent's June 23, 2022, marketing denial order be administratively stayed pending further order of the court. The purpose of this administrative stay is to give the court sufficient opportunity to consider petitioner's forthcoming emergency motion for stay pending court review and should not be construed in any way as a ruling on the merits of that motion.
The Court goes on to provide a briefing schedule for further actions and review. The hold on the FDA ban will last until at least July 12, 2022, while the Court reviews the case.
Why does the FDA want to ban Juul e-cigarettes?
Juul and e-cigarettes have long been the subject of controversy, especially their use among young people. Vaping is linked to many health conditions, including respiratory illnesses and even a higher risk of developing COVID-19.
Matthew Myers, president of the Campaign for Tobacco-Free Kids, talked to CNN about the potential ban, saying:
Juul more than any other company has been responsible for creating and fueling the youth e-cigarette epidemic. Denying Juul both impacts a product that is currently widely used among kids, and hopefully sends a message to the entire industry that FDA is now serious about preventing them from marketing to kids.
Although Juul and other e-cigarette products have been on the market for years, CNN explains that e-cigarette companies had a May 2020 deadline to submit their products for FDA review. Products under review could continue marketing and selling until the FDA made a decision.
In issuing the ban, Michele Mital, acting director of the FDA's Center for Tobacco Products, said:
The FDA is tasked with ensuring that tobacco products sold in this country meet the standard set by the law, but the responsibility to demonstrate that a product meets those standards ultimately falls on the shoulders of the company. As with all manufacturers, JUUL had the opportunity to provide evidence demonstrating that the marketing of their products meets these standards. However, the company did not provide that evidence and instead left us with significant questions. Without the data needed to determine relevant health risks, the FDA is issuing these marketing denial orders.
The Huntsville personal injury attorneys at Martin & Helms, P.C. plan to continue following these developments. All manufacturers have a duty to consumers to disclose proper safety information and health risks regarding their products. When they fail to do so and people – especially teens and children – suffer injury, they need to be held accountable.
If you or a loved one were harmed by a defective or dangerous product, let the lawyers at Martin & Helms, P.C. help. Our experienced injury attorneys want to know what happened and work with you to ensure it never happens to anyone else. We'll work to secure financial compensation for your injuries, losses, and pain and suffering. We're on your side. Talk to us today. Call 256-539-1990 or complete our contact form to schedule a free consultation with a member of our team. We have offices in Huntsville and Decatur, and serve clients in Madison, Athens, and North Alabama.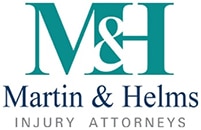 Choosing the right personal injury attorney is an important step in building a better future. You deserve a lawyer who works one-on-one with you, and who can develop a plan for you to move forward. When you choose Martin & Helms, you get Clay Martin and Tara Helms: experienced, compassionate counselors who put your best interests first. We invite you to read more about us.